So, I've been knitting on and off while ignoring this blog, and I have to say that I've gotten braver. I'm willing to try things now without feeling like a total goober when they don't work out. After all, that's how you learn! I've made a (horrendous) sweater from Vogue Knitting - this was not entirely MY fault though. The pattern really was wonky and such. I will take responsibility for some uneven stitches though! I've also made a top down raglan v-neck from knitting pure and simple (LOVE these patterns - they are easy to follow, most are made in one piece to avoid annoying mattress stitching, and they are basically cute). I've also made 2 short sleeve sweaters; one with cables out of wool - (I know. Wool and short sleeves don't mix well. Big duh to me) - the other is really cute with lace trim in Sierra by Cascade. I will have to post pictures soon. The two short sleeved sweaters are currently on the east coast though, so those will have to wait. I did get some non-garment knitting done too. I made this adorable purse for a friend, and then neglected to get around to lining it, so here it sits pathetically awaiting it's new home once I motivate. Here's a picture of the purse.
I also got some sewing done before getting ill. My horse!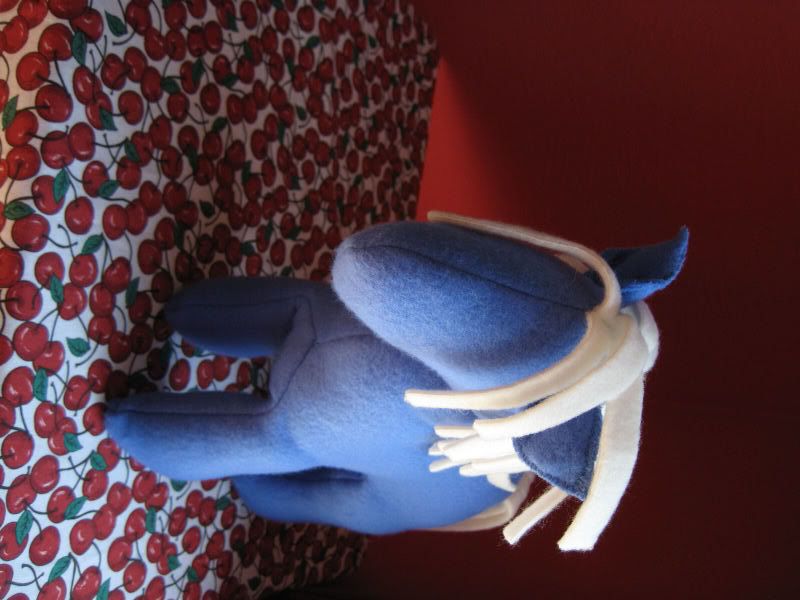 Isn't he the cutest? He was made from a Vogue pattern. I didn't include eyes cause I didn't want them to be a choking hazard for the baby. Hopefully he'll get lots of love.