So I said that I would post pictures of what I had completed since starting to knit, yet having a pregnant body has resulted in 90% of my clothing in boxes, (especially anything I've knit or sewn - no stretching all that work) and when you're 8 months pregnant, digging through boxes of clothing that you can't wear really doesn't sound appealing. Therefore, I will post what I'm currently working on (and am hoping will fit me one day in the near future)
Excuse the "crumpliness" (it's a word if I use it as one) I have a terrible crippling fear of dropping stitches, and did not want to risk smoothing it out right off the needles. (that is something I've done before)
That purple pile will soon be this -
Knitting Pure and Simple's "Neckdown Scoop Neck Cardigan (pattern 278) I love love LOVE these patterns! I love that they are made in one piece and that I can actually understand them without any problems. Also, my gauge is perfectly on on this one. That NEVER happens. I usually THINK I have gauge, then start a sweater and get halfway done just to realize that the sweater I'm knitting could fit a gorilla. Then I get to go back and start all over! Not with this one though. Even though stockinette can get a little "boring" to knit, I love having simple, plain looking staples that I know can go with whatever the heck I happen to be wearing - which can be anything from a pair of patchwork jeans to an 80's prom dress. You just never know.
I'm also working on this:
It's the cover hoodie from Paton's Street Smart Booklet. I love it and figured it would keep me from stockinette coma. I can switch between projects when I need to! I know that most people tend to despise orange, especially burnt orange, but I think it's tops.
Lastly I'm working on the Two Tone Shrug from Fitted Knits.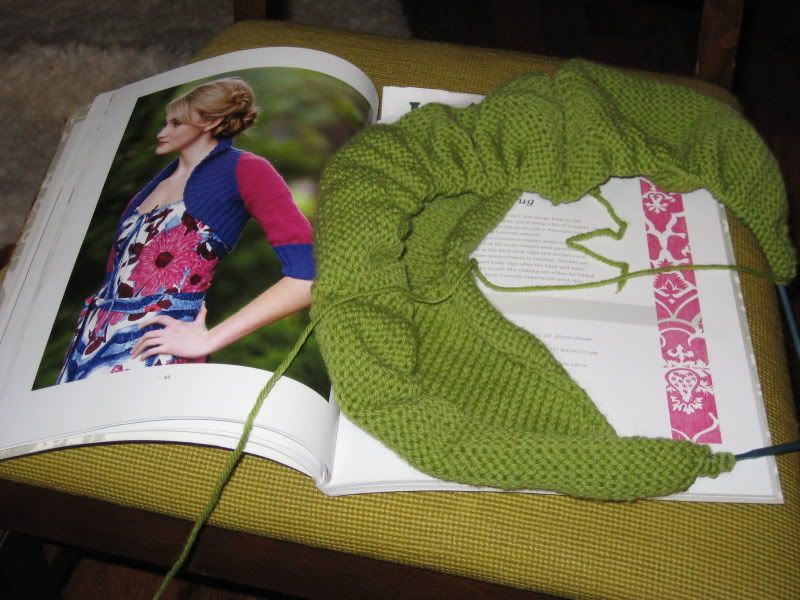 I had originally wanted to make it out of blood orange and plum orphans of Cascade 220, but found that my shoulder measurement required 2 skeins. I figured with my luck and gauge silliness I just might be able to make it out of one anyway. This green one will be my gauge swatch so to speak. Cross your fingers for me!
Oh yeah....lookie what I found on sale!
LOVE. This. Yarn.
Happy knitting, sewing, and living!